WiO Adds Instant Visual Daypart and User Map Reporting to Further Enhance Real-Time Television Engagement & Attribution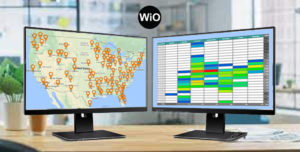 November 23, 2021- New York, NY   WiOffer, LLC, announces the launch of two new visual reporting capabilities to further enhance television engagement and attribution performance across all television media.
WiO's proprietary technology uses a combination of smartphone native "ingestion" modes including dynamic QR Codes, Keyword SMS Text and Keyword Voice linked with twenty different marketer actions to deliver vital television performance data instantly.
WiO's Daypart Heat-Map measures television engagement and attribution by the day, hour and seconds.  Color is used to visually identify the most effective days and times of an engagement campaign without having to do any backend analysis. Color scales range from red, the hottest response periods to blue the coldest television response periods. The report is also aggregated by exact time within the time zone.
WiO's Audience GEO Map visually plots user engagement by geographical location. Advertisers can see where and how many viewers are engaging to their commercials from a national to a hyper-local level.
WiO's Founder and CEO Andrew S. Pakula says, "WiO has the most robust solution for television advertisers to track engagement and attribution instantly, our solution now becomes turbo charged with real-time visual enhancements to provide instant data on the effectiveness of their campaigns."
For more information on WiOffer, LCC or to request a demo, please visit www.wioffer.com or call 888-871-3900 x-20.
About WiOffer
WiOffer, LLC is a technology media company that provides linear, CTV, OTT, streaming and VOD television advertisers with instant viewer engagement, and attribution data and analytics. WiO's campaign management system features WiO Keyword Intelligence© used with WiO QR Codes, WiO SMS Texts and WiO Voice native smartphone ingestion modes for simple viewer engagement and increased response rates. WiO's proprietary technology dynamically creates multiple unique WiO SMS Text Keywords andWiO QR Codes at one time allowing marketers to easily scale and track individual television properties instantly by offer and GEO. Marketers can select up to four of twenty WiO marketer actions to track viewer attribution. Onboarding is fast. WiO provides all campaign management and real-time data and analytics. WiO eliminates all set-up costs and technical integrations for advertisers. WiO is accountable, advertisers only pay on a Cost Per Keyword Text and/or QR Scan Engagement basis. In addition to television, WiO's platform can be used with non-television media including radio, print, OHH, direct, promotion, in-store, and on-premise.