WiO's TV Engagement & Attribution Platform Can Dynamically Track QR Codes With Multiple Media Properties.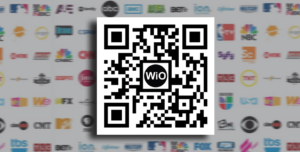 December 3, 2021- New York, NY   WiOffer, LLC, a leading television engagement and attribution platform company, announced today it can dynamically generate  unique QR Codes to increase response rates, and instantly track real-time engagement and attribution of individual media properties, offers and GEO targets saving advertisers time and cost when executing trackable television campaigns.
WiO's unique QR Code capability dynamically creates multiple individual WiO QR Codes for each television media property that an advertiser has in their TV campaign. For example, QR Codes can be dynamically generated for each TV network, cable channel, local TV station, streaming media property, VOD, OTT or CTV property all at once. WiO QR Codes can also cross reference offers and GEO target across media properties.
Having unique WiO QR Codes implemented across an entire television media campaign, allows advertisers the flexibility to instantly track engagement an attribution real-time performance for each individual media property through the WiO platform.
WiO's QR Code capability works separately or in conjunction with WiO's other popular Smartphone ingestion modes including WiO Keyword SMS Text and WiO Keyword Voice creating easy choices for a viewer to quickly engage to receive offers, information and discounts from their favorite brands. Tied to WiO's robust backend campaign management and reporting system, WiO QR Codes, like WiO's SMS Text and Keyword Voice, can track the viewer from engagement through to attribution in real-time providing instant TV data for advertisers.
Smartphone manufacturers added the QR Code capability to the camera replacing the need to download an app. QR Codes became popular during the pandemic with restaurants using the technology to safely provide customers access to their menus. With QR Codes users just point their camera to engage with no need to remember phone numbers or URL's. WiO tested QR Code engagement last summer which showed significant increase over traditional DR response.
"WiO added QR Code functionality to its robust engagement and attribution because of its simplicity for viewers to engage. We are all about increasing response rates and generating more business for television advertisers. Adding this capability has provided more real-time engagement and attribution data so TV advertisers can make informed decisions with their TV media ", said Andrew S. Pakula, WiOffer CEO.
For more information on WiOffer, LCC or to request a demo, please visit www.wioffer.com or call 888-871-3900 x-20.
About WiOffer
WiOffer, LLC is a technology media company that provides linear, CTV, OTT, streaming and VOD television advertisers with instant viewer engagement, and attribution data and analytics. WiO's campaign management system features WiO Keyword Intelligence© used with WiO QR Codes, WiO SMS Texts and WiO Voice native smartphone ingestion modes for simple viewer engagement and increased response rates. WiO's proprietary technology dynamically creates multiple unique WiO QR Codes, WiO SMS Text Keywords and WiO Voice Keywords and at one time allowing marketers to easily scale and track individual television properties instantly by offer, by daypart and GEO. Marketers can select up to four of twenty WiO marketer actions to track viewer attribution. Onboarding is fast. WiO provides all campaign management and real-time data and analytics. WiO eliminates all set-up costs and technical integrations for advertisers.  In addition to television, WiO's platform can be used with non-television media including radio, print, OHH, direct, promotion, in-store, in-theater and on-premises.
Contact
Email: [email protected]
Phone: 917-581-0629
Website: www.wioffer.com