New WiO Feature Allows TV Advertisers To Instantly Track Engagement and Attribution To "Multiple" Online Retailers.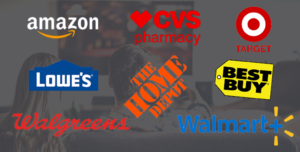 December 8, 2021- New York, NY WiOffer, LLC, a leading TV engagement and attribution platform company, announced today it added eight new online retailer actions for advertisers to instantly track attribution across linear TV, streaming, OTT, CTV, and VOD.
WiO's initial online retailer actions include Amazon, Walmart, Target, Walgreens, CVS, Home Depot, Lowe's and Best Buy. Meanwhile, WiO expects to add more online retailers in the future.
Through WiO's platform, TV advertisers can now take TV viewers from a TV commercial directly to a specific product page on the retailer's site. There is no need for viewers to remember a website URL or product URL.
As a result, brands and direct response TV advertisers can increase KPI response rates and buy rates and get instant engagement and retail attribution data without having to wait weeks or months for their information.
TV advertisers can also track engagement and attribution with other WiO actions. These include web visits and web purchases, phone calls, saving dates, text messaging, couponing, app downloads, videos views and more.
"As a leader in engagement and attribution technology for TV advertisers, adding multiple trackable online retailer actions further deepens TV engagement and provides important retail attribution data instantly", says Andrew S. Pakula, WiOffer CEO.
For more information on WiOffer, LCC or to request a demo, please visit www.wioffer.com or call 888-871-3900 x-20.
About WiOffer
WiOffer, LLC is a technology media company that provides Linear TV, CTV, OTT, streaming and VOD television advertisers with instant viewer engagement and attribution data and analytics. WiO's campaign management system features WiO Keyword Intelligence© used with WiO QR Codes, WiO SMS Texts and WiO Voice smartphone ingestion modes for simple viewer engagement and increased response rates. WiO's proprietary technology dynamically creates multiple unique Keyword and QR Codes at one time allowing marketers to easily scale and track response from individual television properties instantly, by offer and by GEO. Marketers can select up to four of twenty WiO marketer actions to track viewer attribution. Onboarding is fast. WiO provides all campaign management and real-time data and analytics. WiO eliminates all set-up costs and technical integrations for advertisers. WiO is accountable, advertisers only pay on a Cost Per Keyword Text and/or QR Code scan Engagement basis. In addition to television, WiO's platform can be used with non-television media including radio, print, OHH, direct, promotion, in-store, and on-premises.
Contact
Email: [email protected]
Phone: 888-871-3900 x20
Website: www.wioffer.com
WiO Press: Articles